Good Old Geek – The Best Website Development and Social Media Marketing Company in Surat.
Website Development
We developed customer centric branding & e-commerce websites.
Artfully Crafted
We develop websites which are easy to navigate, eye-pleasing & consumer-centric.
Mobile Application
We develop Android, iOS & cross-platform mobile applications.
Technically Sound
Looking for best in class & technically sound Android, iOS & cross-platform applications.
Social Media Marketing
Social Media Marketing requires essential knowledge & expertise.
Perfectly Executed
We believe each social media platform requires special attention & unique approach we take care of.
Search Engine Optimiztion
We offer best Search Engine Optimization services in Surat.
Practical & Technical
Good Old Geek offers On-Page, Off-Page, Advance & Local SEO services.
Why Choose Good Old Geek?
You need an Experienced and Expert team to help you digitize your business because you deserve the best.
Our Client Says
"Good Old Geek developed website for our startup. Whenever & whichever changes we told them, they did without any hesitation. We are totally satisfied with their service."
"The services of Good Old Geek is really appreciating. GOG is really updated in this digital show business. Their efforts for promoting our brand was quite unique. We are glad for service they offer to Xpert Investment solution."
"Nilomi & Tejas are handling my marketing work from last 6 months. They take work very seriously and dedication towards clients satisfaction is their main motto. They have a good team with new ideas and good marketing strategies. For me they are the best one in town!!!"
"Before initiating my branding with Good Old Geek I was a bit skeptical and didn't knew what to expect but I am truly amazed with the results. Tejas & Nilomi are very welcoming & understood my requirement and needs and delivered desired results."
"I came in touch with Good Old Geek when I was looking for someone to develop a website for my business. The entire team of GOG is very creative & hardworking and provide great after services and they are very specific about their role and knows what works for me also many times they go out of their way to help me and my business."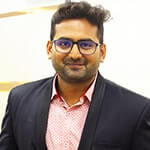 "Best Website Development and Digital marketing company in Surat. They have very good and talented team. best team support."
"We received excellent value for our investment on digital marketing with Good Old Geek very much value add. The work was of the highest standard, which had a positive impact on the professional presentation of our business. We found them most personable and an absolute pleasure to deal with."
"Great service providing for web and mobile platform. They have such a supportive staff and I experienced never like before."
"The best organisation to work. Wonderful work culture. Great place to Learn and work."
"Truly Recommended! Our experience with GOG has been the best so far. They not only handle digital marketing of business pages but also do explain it's importance in today's world. Thank you GOG for your big support. Wish you many many years of success. Thankyou"
"Best Website Development firm in Surat with a well educated and talented team. If one wants to design a business website, only must surely get in touch with Good Old Geek. Fully satisfied with the work provided by the team."
"Truly Recommended! My experience with GOG has been the best so far. I've come to know who actually Digital Marketing helps my business for its growth. They not only handle digital marketing of business pages but also do explain it's importance in today's world. Thank you GOG for your big support. Wish you many many years of success. Thank you"
"Good Old Geek Made website for us and even handing our social media platforms! We are totally satisfy with their services and support! Best website company in surat and best digital marketing company in surat."
"EXPERTS is a smaller word for the team of Good Old Geek. They have delivered more then my expectations. Thank You for the amazing service."
"This is by far the best Social Media Marketing company in Surat. I've learned so much whilst working here as well as Social Media Marketing by Nilomi Ma'am is very insightful. I would love to recommend it to all."
Good Old Geek Blogs
We at Good Old Geek likes to keep you updated. Check out some of our recent blogs to stay updated.
Taking Tiktok into consideration, to some it apparently looks like just a lip-syncing video app for teens however, it's much deeper than that. If you use TikTok just right, you can add your business or [...]
Over the years, we've seen a rapid increase in the use of social media by our users. Social media has grown to such an extent, that even businesses have started using it to raise brand [...]
In 2019, Instagram is undoubtedly a powerful marketing tool - in fact, it now has over one billion active users, making it one of the top social media platforms. There are 25 million business profiles [...]
Our Happy Clients
We love what we do and our clients loves us for the same.
Building Businesses & Brands
Take your business to the next level with us.
Only takes a few seconds!